Programme for law enforcement officers of Himachal Pradesh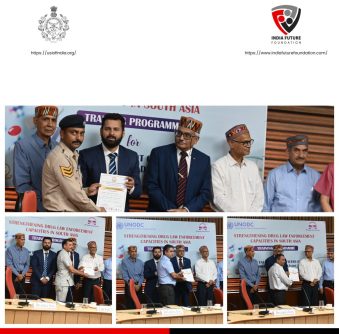 India Future Foundation conducted a training workshop on Dark Web and social media platform interdictions for preventing drug trafficking and commercial crimes in Himachal Pradesh for law enforcement officers from the Narcotics and Custom Department.
The main objective behind this training is to develop new skills for law enforcement officers, such as understanding the cryptocurrency concept and how Dark Web operates.
The other objective of the program was :-
Introduce the participants from various law enforcement agencies to the deep dive into the Tor network/software and anonymously access the dark net and TOR hidden services (Onion services)
To make law enforcement officers understand how to track Cryptocurrency transactions.
This training will help them understand the telltale signs of cryptocurrency activity, such as cryptocurrency wallet icons on a phone and computer.
Law enforcement officers can grab the information they need by having an overview of tracing cryptocurrency choke points and communication.
Learning about Dark Web Forensics will help them get hands-on experience conducting dark web investigations.