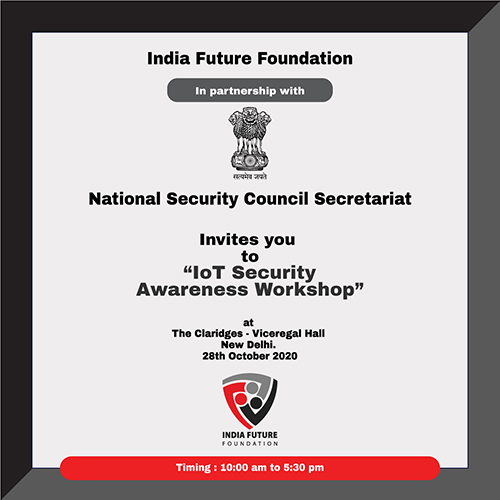 India Future Foundation in association with National Cyber Security Coordinator (NCSC) organized a consultation "IoT Security Awareness Workshop" for the key Indian stakeholders and international experts working on IoT policy, Standardization and Security.
Covid-19 and the resultant pandemic has exposed more security weaknesses in the Indian information infrastructure today. In India, the Internet and it's enabling technologies i.e. Internet of Things (IoT) is expected to drive the next wave of growth and revive the economy.
The Indian Telecom Industry is heavily dependent on adoption of IoT to monetize 4G and push forward 5G trials, the automotive sector is relying on IoT to converge connected vehicles in India, the oil & gas market, nuclear, manufacturing and chemical industry is keen to leverage IoT in industrial systems to manage supply chain, improve efficiency in operation and reduce costs.
On Wednesday, October 28, 2020, India Future Foundation hosted a workshop on "IoT Security Awareness" at The Claridges, New Delhi, aimed at bringing multiple working groups, think tanks, and key stakeholders to collaborate towards securing IoT in India.

The workshop gave the stage to domestic and international experts working on IoT Policy, Standardization, and Security, present their thoughts on securing the IoT environment in the country. The workshop delved on the need to address Security and Privacy considerations for IoT Policy formulation, development of an IoT Security Framework, and Standardization of IoT in India.
The workshop was the right step at a suitable time to discuss and move ahead in securing the IoT infrastructure along with various stakeholders including the Government, Industry, and the general public to ensure standardization, security, privacy, and inter-operability for seamless functioning and collaboration amongst the digitized environment.