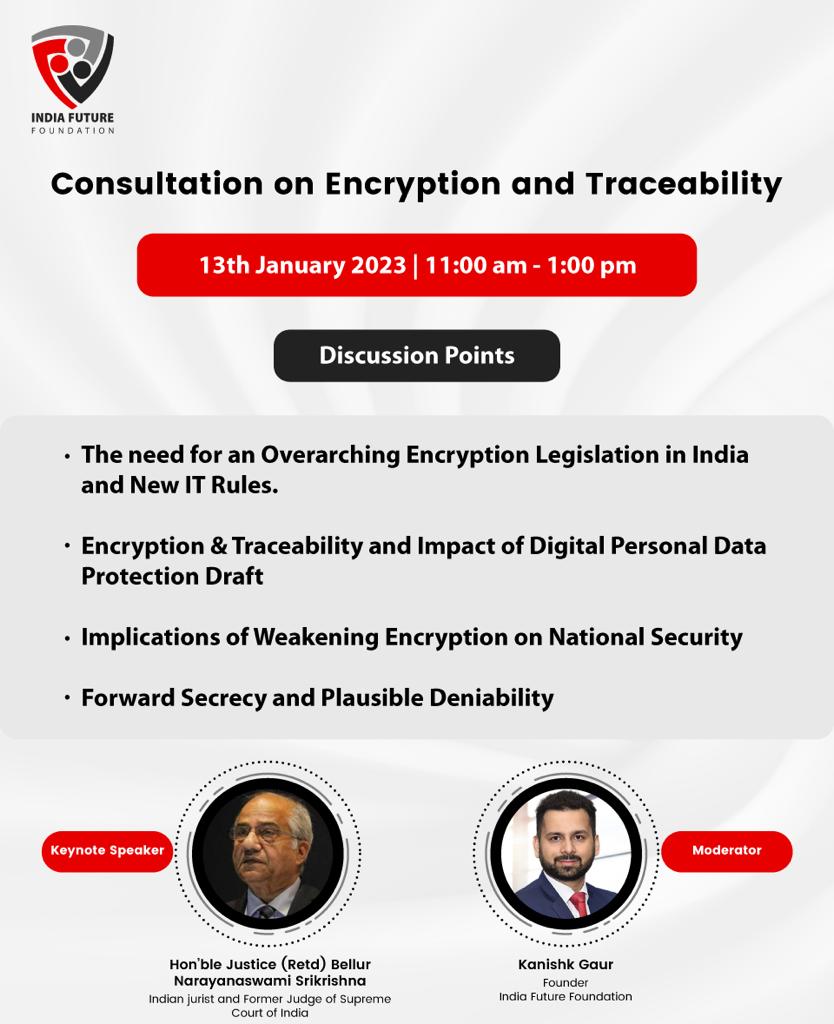 The Ministry of Electronics & Information Technology (MeitY), on February 25th 2021, published The Information Technology (Intermediary Guidelines and Digital Media Ethics Code) "I.T. Rules, 2021". Since then, there has been much debate around "enabling the identification of the first originator" or traceability on end-to-end encrypted platforms has circled around whether it is possible to identify the originator of a message without breaking the end-to-end encryption.
There have been different instances of the Government and the social media intermediaries such as WhatsApp, Signal, iMessage on the issue of encryption and traceability.
In regard to this view, India Future Foundation held an online consultation on Data Encryption and Traceability on January 13th, 2023. The consultation was centred around the idea of whether traceability can coexist with end-to-end encryption (E2EE) and its impact on digital media and consumers. The speakers discussed the agenda while covering the following topics related to encryption and traceability:
Future of the E2EE
What was the Need for the Regulations?
Data Traceability and Mass Surveillance
National Security and Data Traceability
Need for Grievance Redressal Mechanism
Possible Alternatives – A need for a balanced approach for privacy concerns
Does traceability invade the Right to Privacy?
Speakers –
Col Sanjay Bose, National Security Council Secretariat, Ministry of External Affairs
Capt Sandeep Padam – Sr Director IT, Lowe's India
Dr Subi Chaturvedi – Chief Corporate Affairs & Public Policy Officer, InMobi
Ms Shweta Venkatesan – Legal Associate, Koan Advisory Group
Mr Salil Mittal – Lead, Cyber Security, Jio
Ms Surbhi Chakraborthy – Research Assistant, United Service Institution
Ms Lalantika Arvind – Legal Analyst, Koan Advisory Group
Mr Kanishk Gaur – Founder, India Future Foundation
Mr Pankaj Anup Toppo – Head-Policy Programmes & Research, India Future Foundation
Ms Manmeet Randhawa – Head – Corporate Communications, India Future Foundation